Complete the Block Parent Application form and follow steps 1, 2 and 3.
BLOCK PARENT APPLICATION FORM
You will need a PDF reader to view this form. Click here to be taken to Adobe PDF reader download page (a new page will open)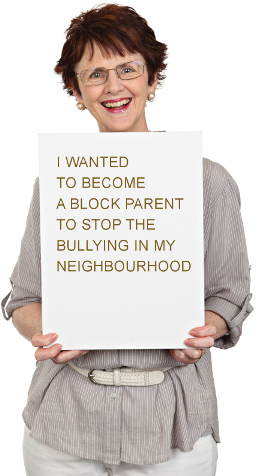 Complete a FREE Online Police Vulnerable Sector Check
Visit http://www.wrps.on.ca to access the Police Vulnerable Sector Check application;
Hover over "records-police checks";
Click "police record checks";
Click "ONLINE";
Click "Police Vulnerable Sector Check"
Please note:
*If you have an existing PVSC that is less than 2 years-old, a new one is not necessary. Contact Block Parents for more information.
*All occupants of your home, 12 years-old and older, must apply for a PVSC.
*Be sure to click "Block Parent Program" under "Reason for Request" to ensure a free check.
Police Services will call you when the checks are completed and each person, or designated person, must attend their local Police Division (pick-up location) and present two pieces of identification ie. (driver's license, birth certificate, passport, student card, proof of residence etc.) to pick the checks up.

Mail all the Police Vulnerable Sector Checks, and your completed Block Parent®Program application form, to the Waterloo Regional Block Parent® Program office at:

Waterloo Regional Block Parent®Program
425 Hespeler Road, Suite 413
Cambridge ON
N1R 8J6

Upon receipt, a representative from the Block Parent Program will contact you to set up a convenient time for your training and orientation session.
*Upon approval of your application by the Waterloo Regional Block Parent® Program, a brief 20-minute training and orientation session will be conducted in your home. Our representative will ensure the suitability of the location, the visibility of the sign, and that there is a clear understanding of the responsibilities of the Block Parent.
How do I volunteer for Block Parent® program?
There are many ways that you can contribute to or be a part of The Waterloo Regional Block Parent® Program.
Create a safer neighbourhood and become a Block Parent
Participate in our events by joining our Events Committee
Help steer the Block Parent® Program by joining the Board of Directors
If you are interested in volunteering, feel free to contact us with your ideas and thoughts on how you can contribute