To become a Block Parent, volunteers must complete the BLOCK PARENT APPLICATION FORM 
Block Parents (all adults 18 and over living in the home) must apply for a free POLICE VULNERABLE SECTOR CHECK (PVSC)
(If you would rather obtain an In-Person on-the-spot PVSC at the Police Reporting Centre at 150 Maple Grove
Road, Cambridge, please click PVSC REQUEST FORM for more information.)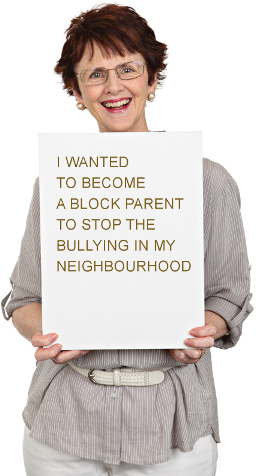 Complete a free Online Police Vulnerable Sector Check
Please Note: *If you have an existing PVSC that is less than 2 years-old, you can submit a copy of it to the Block Parent Program.
Click http://www.wrps.on.ca
Look under Services and Reporting;
 Click "Police Vulnerable Sectors Check";
 Click "Begin Vulnerable Sector Check";
Go to "Type of Request"
Click "Vulnerable Sector Check" again;
Choose "Pick-up Location";
Fill out the Form
Go to "Reason for Request" and choose "Volunteer"
Go to "Organization"
Be sure to click "Block Parent Program"
Go to "Description of Position" and type in "Volunteer with Children"
Go to "Details regarding the toward Children or Vulnerable person(s) and type in "Offer assistance in an
emergency"
Click "Add Request"
Click "Acknowledge Disclaimer and Submit"
Police Services will call you when the checks are completed. In order to pick up the PVSCs, each
person, or designated person, must attend their local Police Division and present two pieces of
identification (one must include a photo) ie. (driver's license, birth certificate, passport, student card,
proof of residence etc.)

Scan and email your completed Block Parent Application Form and PVSCs to info@blockparents.ca, or mail all documents to the Waterloo Regional Block Parent® Program office at:

Waterloo Regional Block Parent Program
425 Hespeler Road, Suite 413
Cambridge ON
N1R 8J6
Upon receipt and approval of your application, a representative from the Block Parent Program will contact
you to set up a convenient time for your training and orientation session.
The brief 20-minute training and orientation session will be conducted in your home. Our representative will
ensure the suitability of the location, the visibility of the sign, and that there is a clear understanding of the
responsibilities of the Block Parent.