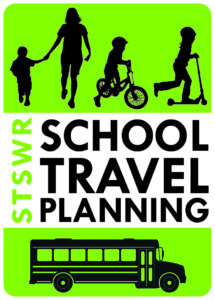 Block Parents supports all initiatives of School Travel Planning (STP) delivered from the office of Student Transportation Services Waterloo Region. STP brings communities together to create better school commutes and shares many aspects of Block Parents' mission, vision and values.
The two main goals of STP are to reduce traffic at schools and to encourage more families to use active transportation modes like walking, cycling, and scootering, for their school journey.
The School Travel Planning process is guided and supported by an STP facilitator who brings municipal, school, and community stakeholders together to identify and resolve issues with active school travel.
Depending on the specific school circumstances, these stakeholders may include transportation specialists, Bylaw officers, crossing guard leads, urban planners, police, parents, students, school administrators, neighbourhood associations and community centre leaders. The facilitator also coordinates activities centred on the 5 E's of active school travel: education, encouragement, engineering, enforcement, and evaluation, to address barriers identified by the School Travel Planning committee. Visit https://www.stswr.ca/walkzone/programs/ for more information.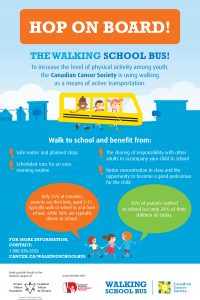 Launched in 2018, the Waterloo Region Walking School Bus Program (WSB), funded by the Ontario Trillium Foundation, was created to provide opportunities for students to incorporate daily physical activity into their morning routine by walking to school, and to encourage them to build and practice their road and pedestrian safety skills.
Together with the Canadian Cancer Society and School Transportation Services Waterloo Region, the Waterloo Regional Block Parent Program supported the recruitment, screening and training of adult volunteers (Walk Leaders) who accompanied elementary school students along a planned walking route on the way to school, while educating them on neighbourhood and street safety. 
The official program ended in June 2021, but any community group or school interested in creating their own Walking School Bus Program can visit www.stswr.ca/walkzone/programs for more information.
Crime Stoppers is a not for profit community based charity that brings together the cooperative efforts of the police, the media and the community in the fight against crime. Crime Stoppers is solely funded through personal, corporate & service club donations.
To find out more visit www.waterloocrimestoppers.com