The Waterloo Regional Block Parents YouTube channel
Why we should design our streets with walkability in mind
You may have seen them in Waterloo Region this month: fluorescent vests bookending a line of backpack wearing kids on their way to school. The people wearing the vests are walking school bus volunteers. Walking school buses are just like regular school buses but instead of a big yellow bus stopping to pick kids up along the way, it's volunteers walking a set school route with "stops" along the way…
Read more…
October is International Walk to School Month
In Waterloo Region, many schools are stepping up to the challenge of getting children more active by introducing the Waterloo Region Walking School Bus program in their school. In 2018, eight schools in Waterloo Region launched this program, and more are set to join this school year.y…
Read more…
Block Parents makes a comeback in Pointe-Claire
Tara Stainforth and Christine Latreille both grew up in the West Island in the 1980s and remember Block Parents fondly. Back in those days, many children walked to and from school and it was Block Parents familiar red-and-white signs in the windows of houses along the way that helped make children feel safe and gave parents peace of mind.
Read more…
Tara Mondou Block Parent Chair on Rogers Daytime Waterloo Region
Better Winnipeg: Block Parent program looking to bounce back
Fort St. John mom trying to revive Block Parent Program in B.C.
A Fort St. John woman is asking for her town's support to help revive the Block Parent program.
"We need a stronger sense of community. We need to feel like we have each other's back," said Valerie Coe, who presented a proposal to local politicians on Monday.
"Putting those Block Parent signs out, I hope that people are going realize that their kids are not alone. It's not even just for kids, it's also for elders or anyone who is at risk."
Read more…
Block Parents makes a comeback in Pointe-Claire
Tara Stainforth and Christine Latreille both grew up in the West Island in the 1980s and remember Block Parents fondly. Back in those days, many children walked to and from school and it was Block Parents familiar red-and-white signs in the windows of houses along the way that helped make children feel safe and gave parents peace of mind.
Read more…
Block Parent returns to the West Island
Community of volunteers to offer safe haven to children and elderly in times of emergency. Those popular red and white signs in people's windows in the 80s and 90s are coming back to the West Island with the return of Block Parent in Pointe Claire
Read more…
Zwambag We lost the village
I have these memories.
I am five and six years old. I know this because I was school-aged and by the time I was seven, my family had moved to our new home in Alberta from the Saskatchewan town that I still consider my roots.
I have a bike. I have two feet. And I have a lot of freedom.
Read more…
West Island mothers meet with Block Parent Montreal
MONTREAL Mothers in the West Island are serious about bringing back the Block Parent program. Some might remember the iconic program from their childhood. The Block Parent sign in participants windows is meant to let children know the house is safe to approach when help is needed.
Read more…
Block Parents mean business
Chatham-Kent Block Parents are trying to drum up some business. The familiar red and white block parent sign is posted in the front window of 175 private homes across the city, but currently only nine local businesses are signed up. "There were 21 and within less than a year we've lost more than half of them," said Terra Everett, a volunteer with the Block Parents. "A lot of them were just mom and pop shops that closed because of economics."
Read more…
The Co-operators now a member of Block Parent Program
Many of us are used to seeing the red and white Block Parent signs in residential communities.
Since 1968, homes with a Block Parent sign have given children a safe place to go when in trouble.
Read more…
Our First Business Block Parents
Congratulations to Joseph Balan and Associates in Kitchener! Their office is our first Co-operators Business Block Parents! If you need assistance, please visit The Co-operators at:
23-700 Strasburg Rd
Kitchener, Ontario N2E 2M2
Phone: (519)576-7440
Email: joseph_balan@cooperators.ca
Website:http://www.cooperators.ca/Joseph-Balan
Being a Block Parent is a good way to give back to the community
The Waterloo Regional Block Parent provide children, seniors, and others a place to receive assistance if they became lost, frightened or face additional troubles.
Read more…
'Bubble-wrapped kids' danger
In an age when parents are so protective of their kids and may be reluctant to teach a child to seek help from a stranger, Lori Worozbyt wondered if the Block Parent program is as necessary now as it used to be.
Worozbyt applied to become a Block Parent last June and received the program's familiar red and white display sign for her window earlier this month.
Read more…
Whitby Block Parent program saved
WHITBY — A strong sense of community spirit is what drew Andrea Kennedy and her family to Whitby when they decided to move here two years ago.
It's the same reason she didn't hesitate to put her name forward to help save an important community-wide program that was recently on the verge of disbanding.
Read more…
Block Parents Eye Wallaceburg!
WALLACEBURG — It's no coincidence the annual Ontario Block Parent Conference was held here on the weekend.
"We're so stoked about having our conference here in Wallaceburg, because Wallaceburg, this year, is going to be one of our target areas," said Tanya Nooyen, a community outreach co-ordinator with the Chatham-Kent Block Parent program.
Read more…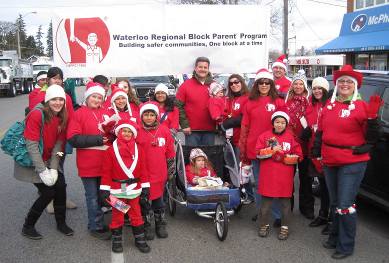 On November 20th, 2010 the Waterloo Regional Block Parent Program was proud to participate in that year's Lion's Club Santa Claus Parade in Kitchener Waterloo

Thanks to all our volunteers who walked in the parade, to the children who handed out pamphlets and candy canes, to the strong guys holding up our banner and a special thanks to the members of our committee who pulled the whole thing together!

We're proud of our program and the members of our organization for ensuring todays event went off without a hitch!